While I had heard about mindfulness in the past, I knew very little about its effectiveness. I was skeptical if this would provide any benefit. Prior to the workshop I was feeling overwhelmed in my career and responsibilities to my family. Things never got accomplished to my satisfaction. In addition, my spiritual life seemed to be lacking and not getting the attention it needed. I was apprehensive with regards to the workshop, but I thought what the heck let's give it a try. If anything, I would learn something about mindfulness.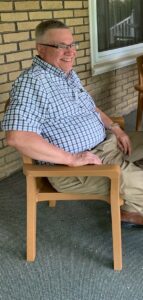 Even though we were promised confidentiality I am not a sharing kind of person. I told myself to be on guard for fear that what I said might be posted to someone outside the workshop or that it would make me appear weak and not in control. To my surprise I became quite comfortable sharing with the group because I felt safe and never judged. By the end of the workshop I had some new friends who I still communicate with periodically.
The workshop directly showed me that mindfulness provides positive benefit. I was surprised how the various sessions, particularly guided imagery, brought me into a state of calmness and greater awareness of my inner thoughts and the environment around me. I experienced a greater spiritual awareness and at one point saw Jesus Christ, my savior. This was quite powerful and seemed so real. I would say without a doubt the guided imagery was my favorite session because of what I experienced. Stacey does an excellent job bringing one into a relaxed and open state of mind. It brought out emotion in me that I generally keep suppressed. While guided imagery was my favorite, I believe the entire workshop is what made the couple of days an effective and positive experience. Given the sense of peace I was experiencing, I found myself not wanting to leave the workshop and re-enter the real world.
I would say the most lasting impact from the workshop is a greater spiritual awareness and connection to God. I find myself praying more often, reading the Bible and being truly thankful for all that has been provided to me by my creator. While the pressures and challenges of life are still present (not that I thought these would lessen), I am more at ease and not so stressed. The workshop was just what I needed and I would highly recommend it to others. I hope to do it again in the future.
Contributed by Scott Wisneski, converted skeptic