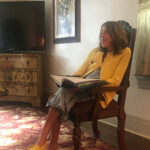 I was stressed out, burned out, we are talking crisis mode. When the world feels out of control and anxiety and OCD rear their ugly heads in full force. Let's just say when you are scrubbing your floors for the third time at 4 o'clock in the morning um…. something has to change. I had been struggling for a while thinking life was leading me to find my passion and I was desperate to figure out that next path. I needed to recharge, re-energize, and at least gain some perspective as to what was happening in my life or at least stop scrubbing my floor!
Attending a retreat to be trained in Mind-Body Medicine offered by two esteemed faculty at Georgetown Medical University was placed in front of me by no accident. There were ten amazing people at that workshop and two gifted leaders that would forever change my life. I can't say I really practiced mindfulness or meditation on a regular basis, but I felt God put this in front of me for a reason. So off I went for 3 days to a retreat that I had placed high hopes on helping me figure out how to get this hot mess together!
The schedule said Yoga, Guided Imagery, Special Place Meditation… ok? I am not a yogi and I was not familiar with the other exercises. Now the drawing and journaling one I could do! I love crayons! And writing… I got this! We started with a gourmet meal and I was so amazed at how delicious the food was with the special wine pairings and decadent deserts. The accommodations were top notch and I felt pampered and loved. After introductions around the group it appeared we were all more or less in the same boat. All of us searching for something and maybe just all searching for our true selves and how to practice self-care.
There were so many memorable moments for me of group support and healing exercises I cannot even begin to put them into words that would fit on this page. The drawing meditation helped me to see just how unhappy I had been for quite a while and the journaling meditation allowed me to get the anxiety down on a piece of paper and make sense out of all of it.  I learned to sit with it and guess what? It eventually goes away! One of the most powerful lessons that I was determined to remember when I got home. I am getting better at it I swear! The most powerful for me was the Guided Imagery meditation where I was visited by my spiritual guide (my grandmother). I kid you not! She helped me see that I had that light inside of me pushing me to move forward in pursuing my passion and that it just took a leap of faith. Every time she encouraged me I came back with… but I need a paycheck…. but I need health insurance… but I need a retirement plan…  And she said, "Lead with your heart!" That has become my mantra in times of doubt.
These types of meditations that we practiced along with the comfort and support of the group have helped me start Rae of Light in hopes to help others who are more or less feeling the stress of everyday life like I was. I will forever be thankful to our incredible leaders, Nancy and Ari who have touched my life in a profound way to help me see the vision of my future.  My hope is by offering my own workshops in the community I will be able to give others the peace, clarity and serenity I walked away with and the tools to help you maintain that healthy sense of self when you get back into the rat race know as your everyday life. I was so fearful to return home and leave the safe and calming environment but I quickly realized I had the skills and the mindset to stay in a place where I valued my sense of self and no longer felt guilty about setting time aside to practice self-care. We will learn a number of different types of meditative practices to give you a toolbox to choose from the ones that you feel help you the most during the stressful times in your life. I also value being supported, loved and comforted while also getting pampered a bit! So come enjoy the charming venue, gourmet meals and rest/relaxation time with a massage and daily yoga. I mean seriously who doesn't need this?